Where to get free professional email marketing templates? You may ask. In fact, there are many free email marketing templates available online but most come in the form of html format which may not easy to change for average users. They require knowledge of coding and usage of html editor to edit which is not the ideal solution to many non-technical users. The most efficient way, however, is to utilize what most email marketing service companies provide – ready-made email marketing templates in their email marketing system. Most of them not only provide free, professional designed but easy-to-modify email marketing templates without additional software required or installed.
One such email service providers is Aweber who provides a wide and variety of email marketing templates for your free selection. Their email marketing templates are categorized according to different industries and events, see below category. Such categorization allows choosing of template easily and quickly for new users.
| | |
| --- | --- |
| " | Promotions |
| " | Blog |
| " | Download |
| " | Recreation |
| " | Food and Wine |
| " | Holiday |
| " | Automotive |
| " | Consulting |
| " | Retail |
| " | Celebration |
| " | Real Estate |
| " | Travel |
| " | WordPress |
In each category, you can just pick the email template you want and edit from there online. You can simply add in your company logo, text, content or change its color to fit your company brand and style. Aweber offers additional images to select if you want more variety or add in your own images to offer personal touch. See some examples of email marketing templates as follow.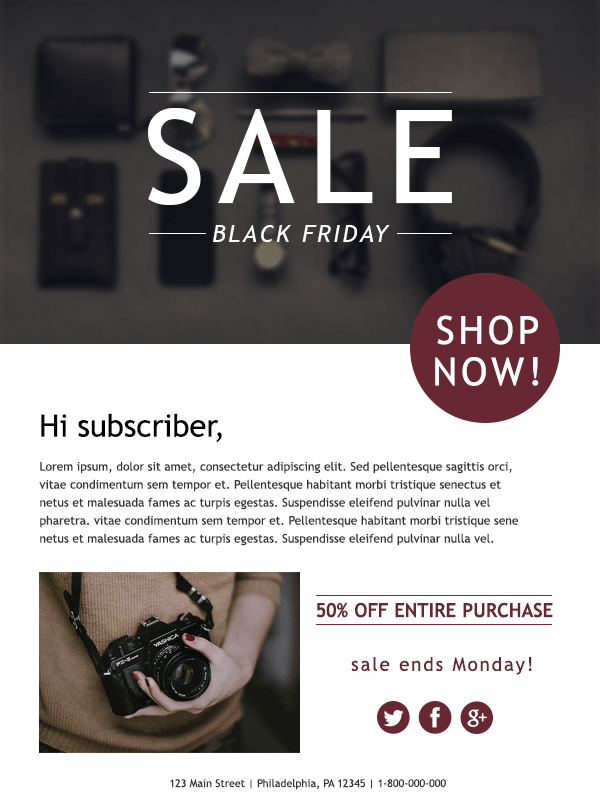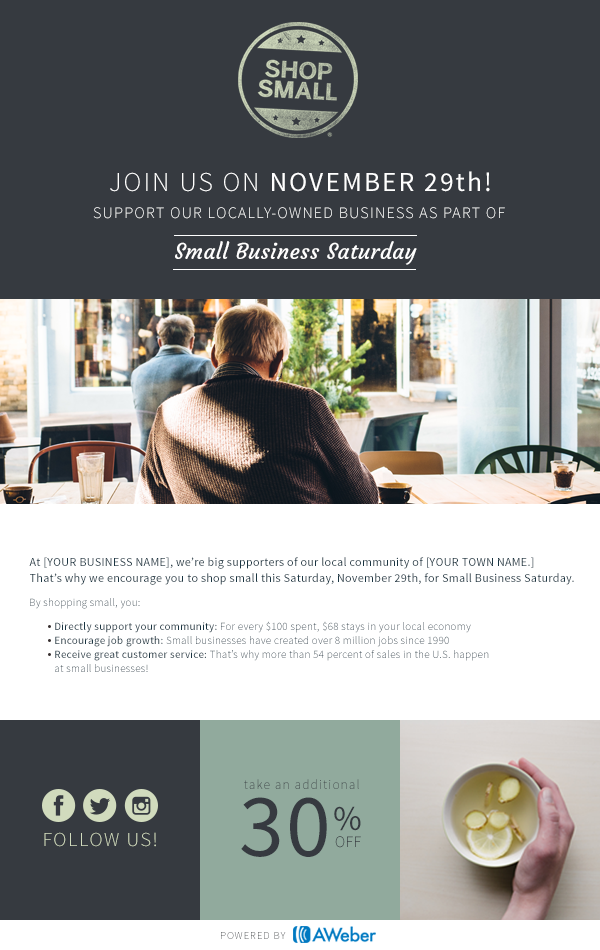 The above email templates do not require any technical knowledge to make changes as the email marketing system interface looks similar to word editor. Hence you can quickly create a professional looking email newsletter without spending too much time on the design and layout. In Aweber, you can create as many email templates as you want, this is good news to those who need to run many campaigns for different departments. There is no limit to the number of times to edit your email templates and sending out to your mailing list. On the other hand, if you prefer to create your custom email template to fit your branding, you are welcome to do so as Aweber provide custom email template option and they have 6000+ stock images you can use without additional cost.
If you want to see more details on the email marketing templates, you can sign up their 30-days trial version to find out more.