If you are planning to start a business soon, getting a good logo is a long-term investment. Your logo is the face of your business and helps your customers to identify you in the masses. It is your number one business's asset as it will appreciate in value as times goes by so it is worth the effort, time and money to invest in a good logo.
But what makes a good company logo?
Below is a list that every business owners must know before getting a company logo.
Convey Your Business Message
You company logo must reflect the vision of your business, it should not only tell people who you are but also what you are. A good logo must incorporate your business vision, values and even your future business plan. If you are, for instance, doing a health business for women, you would not want your logo to look too feminine as you may want to expand into men health business in future.
In addition, a logo must convey the attributes of the business. If you are in the consulting business, you may want to show strength, speed and focus in your logo, a good logo should be able to incorporate these attributes and communicate them to the customers.
Simple Yet Attractive
A good logo must be simple but yet eye catching, creative and attractive as people can identify a bad logo just as quickly as good logo. A simple logo should not contain superfluous elements like complicated lines, shapes, fancy borders, special effect like fuzzy drop shadows, glowing edge and gradual tone of colors. A simple logo will give an everlasting impression to your targeted customers than a complicated one. Some of the famous and simple logos in the world such as the Nike Swoosh logo, the Apple Computer logo with a bite, the MacDonald's Gold Arch and the 3 diamonds shape of Mitsubishi logo. These logos have become iconic and instantly recognizable by consumers throughout the world.
Scaleable
Technically, a simple logo helps in production as it can be reproduced effectively throughout all media. A good logo not only must look good on screen but it must also look good on magazine, newspaper, billboard, banner, delivery van or even on other small merchandises. And that is another reason why logo is recommended to use the least color as possible so that it will not face too much of colors problem. Some colors may not reproduce well on certain medium which may eventually limit the business function. One good example is Apple Computer; its logo was initially comprised of several color stripes but was eventually replaced with a monochrome logo so that it can be reproduced well on Apple laptop cover.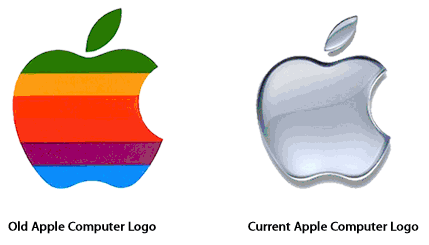 Next, make sure the logo looks good too when produced in black and white. This is especially important during faxing or doing black-and-white advertising. Extra care must also be taken if the logo need to scale up and down, it should still look visible and sharp while in either ways.
Colors & Style
Colors help to convey mood while style convey the image of your business that you want to portray. Choosing the right colors and style are extremely important as they will impact your business image and credibility. If, for example, your business wants to portray a serious and professional image then the colors chosen should not be too loud and the style must not be too funky. You want your customers to see you as a trustworthy and reliable business not any entertainment business so avoid flashy colors totally.
Also, all colors have a psychological meaning, each industries has its own sets of colors. For example, businesses like banking, finance, accounting and consulting tend to use cold colors like blue, green, purple and brown to depict trustworthy and professionalism. On the other hand, businesses such as F&B and children-related services tend to use warm colors such as red, orange, yellow to depict warm, happiness and friendliness. So a good logo should have colors that can deliver the business image, attributes and values.
Memorable
A memorable logo should be unique and stand out distinctly from the rest of your competitors. A logo which is too similar to your competitors may cause confusions among your customers, suppliers and partners. It is recommended that you check out your competitors' logo before getting a logo. There were already many cases where companies suing their competitors for having too similar logo.
Having a memorable logo helps your customers to recognize your business easily and instantly. Customers tend to trust businesses they can recognize,therefore, with a memorable logo, it can also help to build loyalty in long term.
Timeless
A good logo must be able to stand in the test of times, one good example is the Coca Cola logo; it has never changed ever since 1885. A well-designed logo should not follow the latest trend or fashion; the design will not be affected by time and become stronger and stronger over time. Make sure you get a logo that will look good today as well as in 20 years time, you will be thankful for the effort and money save in future.
The above is a brief guide on what make a good logo, it will be a good startup guide for those who have no experience but intend to get a logo for their business. If you think there is other element that make up a good logo, please feel free to leave your comment below.
"******************************
If you need help in getting a good logo for your business, check out our
logo design promotion packages
. We have helped many startups with their logo design so you are welcome to
contact us
with any questions.