This is one of the most commonly asked questions for using our email marketing services. Many customers are concerned what do their recipients see at the "Email Address" column when they blast out the email using our email marketing system.
Most of them have the misconception that their recipients will see the email address is from the email service provider instead of theirs and this is incorrect. If you are using our email marketing system, your recipients will see your email address or your company email address and not the email address from the email service provider.
Why is this so?
During the initial set up before you can use our email marketing system, you are asked to provide a valid email address and the system will need to verify it before you are allowed to send out any email marketing campaign.
After verification, the email address that you provided will be used as the primary email address for blasting out your email marketing campaign. Hence what your recipients see is from your email address and not anybody else. For example, if I have provided sales@v-sopdesign.com during the setup and when I blasted my email campaign, my recipients will see it is from me at sales@v-sopdesign.com.
Let Your Recipients See Your Name
For additional clarity and instant identification, you can add in your company name or your own name in the "From:" field. It should be a name that your recipients will recognize and relate immediately so do not just limit to company name or your name, it can be your boss, colleagues or department name.
herrrr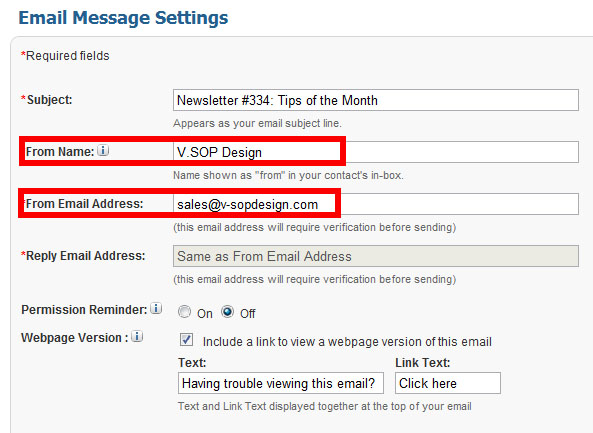 Increase Your Productivity by adding a Reply Email
You can also add another email address for recipients to reply you as normally the first email address you used to blast out will be overflowed with "Out of office" or other messages. It is hard to distinguish which emails require immediate action among such messages. Click here to read more information why you need at least two email addresses for your email marketing campaign.
#####
Hopefully after reading this post, you can get a piece of mind when using our email marketing system. If you have any question, feel free to post it in the comment below or contact us privately.